With the continuous development of LCD panel market, cost-effective ultra narrow edge LCD panel is increasingly accepted and recognized by peopleThe large LCD splicing screen is used as the background wall in entertainment places, which not only enlivens the scene atmosphere, but also improves the level of entertainment places. reachtwo thousand and sixteenIn, the LCD splicing market30%It is a complete set of entertainment and leisure clubs such as barsLarge screen display of bar leisure and entertainmentsystemWhat are the components of the planformWhat about yours?
◆ Front end equipment: The signals of the front end equipment are created by DJ masters, and appropriate materials are selected and edited into high-definition signal sources to send signals. After the HD signal is transmitted to VJ, the DJ signal is collected by the VJ HD acquisition card. After various processing of the broadcast materials by the VJ console, high-definition high-quality pictures that can strongly render the scene atmosphere are played.

◆ Transmission equipment: The transmission system is an important link to ensure the high quality of the display screen. For image transmission, the key requirement is that the image signal will not produce obvious noise, distortion and deformation after passing through the transmission system, so as to ensure that the clarity and gray level of the original image will not be significantly reduced. There are many kinds of signal transmission systems. High definition signal transmission equipment such as signal distributor, converter, transmitter, switcher, wireless transmitter and optical transceiver can ensure the lossless transmission of signals.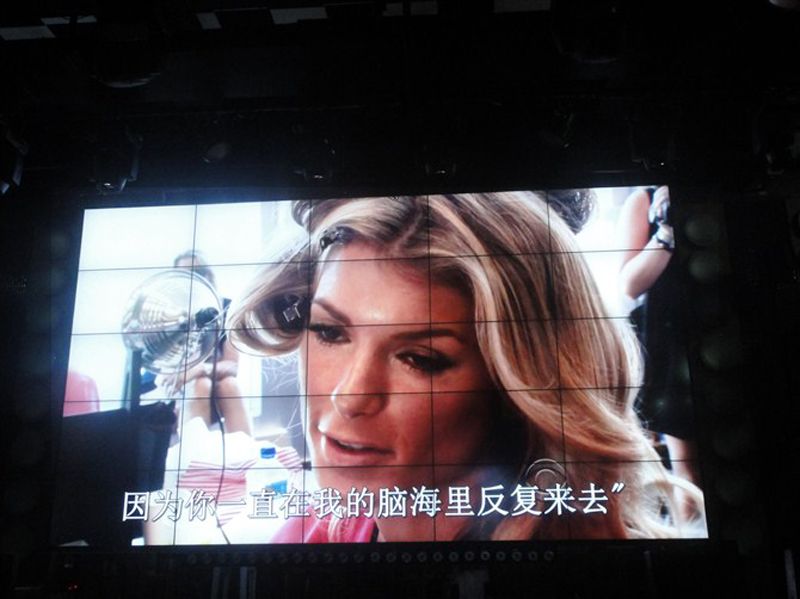 ◆ Display terminal: The display terminal is generally composed of spliced large screens, which can create a shocking effect. Huayun Vision grandly launched a 46 inch DID 5X5 super narrow edge splicing large screen for the night show. The industrial LCD panel produced by the original Samsung factory can work for a long time without failure. It has the characteristics of small seam, fast response and high definition. The extremely shocking pictures can bring more high-end enjoyment to the night scene.
Huayun Vision's large screen display system for leisure and entertainment is a popular high-end leisure equipment configuration mode in the market at present. It uses high and new technologies such as full HD signal acquisition, signal encoding and decoding transmission, and Yajia console. It is a set of cost-effective audio and video synchronization solutions specifically developed by Huayun Vision for bars and other leisure and entertainment fields.
Large screen display system for leisure and entertainmentFunctional features: