The First Affiliated Hospital of Anhui Medical University lg55 inch 0.88mm 2x3
Huayun vision mosaic screen was successfully applied to the First Affiliated Hospital of Anhui Medical University again.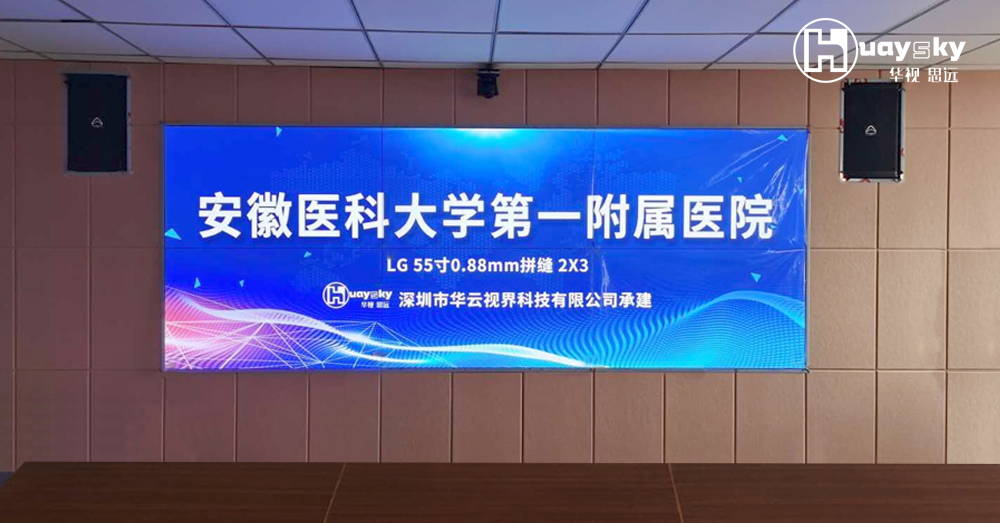 In September 2019, the First Affiliated Hospital of Anhui Medical University purchased a LG 55 inch 0.88mm 2x3 splicing screen in Shenzhen Huayun Vision Technology Co., Ltd. to improve the information display system of the hospital. The experience effect is perfect. Now in June this year, the splicing screen of this specification is purchased again to improve the hospital information display system.


This time, we still use LG 55 inch 0.88mm ultra narrow edge splicing screen for splicing of two rows and three columns, floor bracket type installation. This time, we use the soft binding background wall decoration, the material texture is soft, the color is soft, the overall space atmosphere is soft, the floor bracket is also perfectly hidden, the overall simple and beautiful atmosphere.
55 inch 0.88mm split LCD splicing screen: the panel brightness is uniform, the image is stable, no distortion, low power consumption. The ultra narrow stitching edge seam is 0.88mm, 16.7M color, which can truly reproduce every detail; 5ms fast response, avoid tailing phenomenon, and play smoothly; the visual angle is more than 178 degrees, all-round viewing; military level components, which support 24 hours × 365 days of uninterrupted work; the service life is more than 60000 hours; low energy consumption, zero radiation, image stability, no impact on the eyes, environmental protection and health;

Now the project has passed the process of trial work, verification and acceptance.
Huayun vision strictly guards every level, production process, provides customers with high-quality products and services, and is committed to becoming the industry leader, the leading brand in China and even in the world.
If you are interested in or have any questions about the above 55 inch 0.88mm LCDs, please click to contact our online customer service on the right side of the webpage, or call 400-0988-728, huashiyuan, your close purchasing consultant.